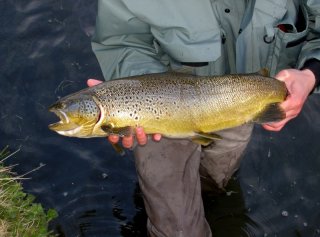 River Arnavatnsá is a loop some two miles long which is part fed by the Big Laxa, and part fed by another small lake to its south. After just one hundred yards of twisty stream it runs through a culvert under the main road.farm.

In the small pool below the culvert there are some extraordinarily large fish which get there, escapees from the main river, via underground channels carved in the lava over centuries. Much of the first mile or so, is canal like and the fish see you long before you, them.
Arnavatnsa is fantastic for dry fly fishing and to fish upstream with nymphs.
If you are looking for small stream to fly fish in Iceland is Arnavatnsa fantastic choice.
The Mývatns area is famous for the wildlife and the landscape in the area is magnificent.
Fishing season: May 1st to September 15th
Average size: 1,5 pounds.
Tackle: Single handed, floating line. Line weight 3-6.
Access: Good.
Number of rods: 2
Distance from Reykjavík: 465 km
Lodging: self catering summer house,
or at one of the nearest full service hotels in the area
For further information or booking please send your inquiries to