When you Fish in Iceland, you can fish for, Atlantic Salmon, Brown Trout, Sea Trout and Arctic Char.
The Fish in Iceland
Atlantic Salmon is popular to fish for in Iceland and the quality like for the Brown trout is some of the best in the world today. When you're fishing for salmon in Iceland is the size to expect to catch 5-7 pounds. In some rivers are 20-40% of the fish 8-18 pounds.
Most common is the Brown trout and Arctic Char.
When you go Fishing in Iceland you can expect to catch trouts, both Brown and Sea trouts, up to 15 pounds+ in some spots but most common is 1-4 pounds in for the brownies and 3-5 pounds the Sea trouts . The Arctic char are most often 1-3 pounds, but fish up to 6-8 pounds are found in between.
The Rivers in Iceland
In Iceland can you find gin clear rivers where you can fish for Atlantic Salmon, Brown trout, Sea-trout and Arctic Char. There are over 100 salmon rivers where you can fish in Iceland in all sizes and hundreds of rivers and lakes where you can fish for trout. The Rivers and lakes in Iceland are easy to access and you can always find something that you are looking for.
The Season:
The fishing season in Iceland is From April 1st to 20th of October
The season for Brown trout, Sea Trout and Arctic Char: April 1st to 20th of October
Atlantic Salmon: June 5th to 25th of September in most rivers, June 25th to Oct 20th in West Ranga
Accommodations: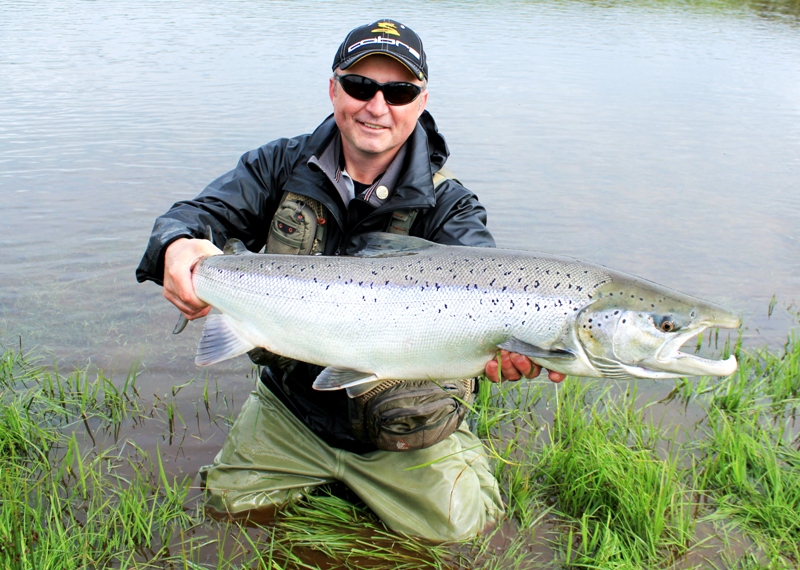 Most of the best Salmon Rivers offer full service luxury lodges, but in many good rivers self catering lodging is also an option. For the trout fishing is full board accommodations arranged by request, except for the Laxa in Myvatnssveit and Laxæardalur offers full board all season.
There are good farm hotels, summer houses and highland center options for the trout fishing all around Iceland.
Privacy:
By Fishing in Iceland, you get a privacy and exclusive access to the waters All rivers and lakes in Iceland are privately owned. Government regulations limit the number of rods and fishing hours in each river and lake
Book your fishing in Iceland here info@fishingiceland.com
Let us take care of your fishing holiday in Iceland