Salmon River Sog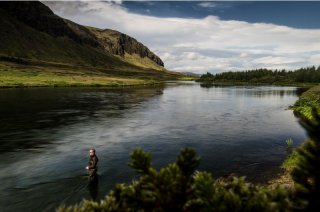 Go salmon fishing in Iceland and fish River Sog for Atlantic salmon
By locals its called Sogid (Sogið) is Iceland's biggest volume clear river and quite an impressive river. It has a tranquil look to it as it passes through its valley hardly breaking up a white tip, but this appearance belies the power.
River Sog is in the south of Iceland. It stems from one of Iceland's biggest inland lakes, Thingvallavatn were the site of the first free parliament in the world is to be found. Thingvellir is a national park and is not only historically important to Iceland, it has some seriously beautiful scenery as well plus a prolific and interesting trout fishery consisting of inland char and one of the oldest living strains of native brown trout in the world, with specimens exceeding 20 pounds!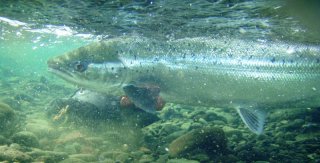 The River Sog used to be Iceland's number one haunt for huge salmon. This has changed drastically. On the good side though, the river has been better managed in recent years and has been improving. Char fishing has also been up and coming.
The river is fished with 11 rods. There are 5 salmon beats Salmon beats plus a few on char beats. Each beat has a well equipped self catering lodge. The river is also one of Iceland's most beautiful rivers, a joy to fish from that point of view.
Enjoy your fishing holiday and fish River Sog in Iceland
Fishing season: 24th June to 20st September
Average size: 5-8 pounds
Tackle: Double handed 12'6″ – 15″.
Access: Very good.
Number of rods: 11
Distance from Reykjavík: 60Km
Lodging: self catering Lodge or full board by request
For further information or booking please send your inquiries to