River Fossá-trout beat offers you to  fish for Brown trout and Arctic Char.  Háifoss at the top of

the trout beat is the second highest waterfall in Iceland 122 meter and no words can describe how its feel to fish the waterfall pool. Foss is the Icelandic word for waterfall
Fossá river system is fly only, catch and release
The river:
From the waterfall Háifoss to the Hjálparfoss are 13km of private fishing for 2 rods.  The beat has plenty of water to keep the 2 rods busy for the day.  The top pool is the waterfall pool where the spectacular Háifossfoss fall 122 meters from the highland.  From the fall and next 2,5 km are you fishing in canyon where every moment is like being in a fairytale. The rivers flow in rapids, slow wide pools and challenging tight stream.  All angles are amazed by the unique landscape, and the good shape of the trout.

Below the canyon is the river flowing slow in grassy banks, wide gravel pools and short deep holes. The trout has good chance to be never seen. The gin clear water can make them spooked
Fossá can offer you extreme trout fishing experience by walking the canyon (by choice) if you start fishing the waterfall Háifoss and walk the amazing canyon, or go the easy way where you can drive by the river and fish grassy banks.
The fish: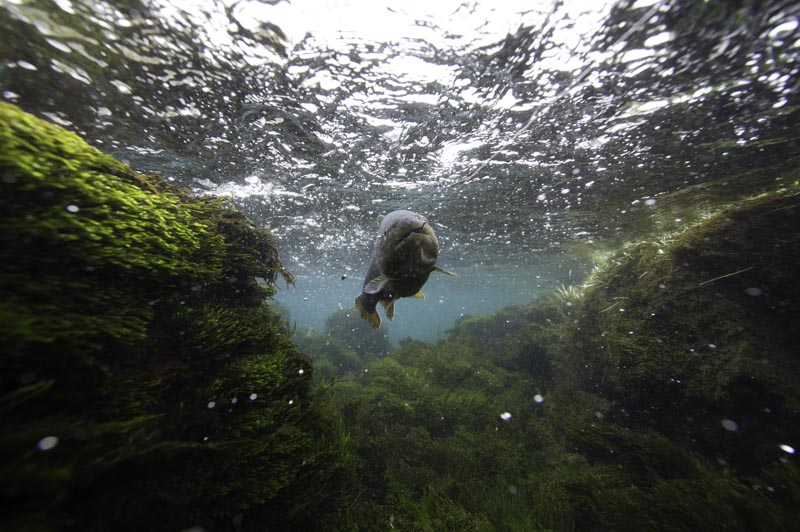 River Fossá above Hjálparfoss hosts Brown trout and Arctic char
Average size of the trout is around 2 pounds and there is a good number of trout over 2 pounds. The trout fishing starts May 15th and only gets better until last day. There is trout and Arctic char in the salmon beat as well and especially early season. In September you can expect to catch sea trout in the junction pool.
Fishing season: May 15t to September 30st
Average size: 9 pounds
Access: good.
Number of rods: 2 rods
Distance from Reykjavík: 115 km upper south
Accommodation: By request
Tackle:
Single handed rods 9ft", weight 4-6,
 Recommended flies
Streamers
Black ghost
Dog Nobbler black
Dog nobbler Yellow
Dog nobbler white
Dog nobbler olive
Rector
Grey ghost
Nymphs
Pheasant tail
Latex pupa
Silurperla
Krókurin
Peacock
Hears ear
Dry flies
Black gnat
Klinkhammer
Europe
Adams