For sea trout fishing in Iceland is river Tungulækur on the top
The fish
River Tungulækur is a fantastic chose for sea trout fishing in Iceland The Tungulækur hosts enormous number of fish, manly sea trout and most of the fish is above 4 pounds up to 20 pounds.
River Tungulækur hosts char as well and after middle of July you can expect to catch char from 3 pounds up to 10 pounds. Atlantic salmon are caught every now and then, most season there are caught a few dozen mostly grilse. When fishing the Tungulækur then you are most often using streamers but when the conditions are right you are able to use nymphs with rubber legs and even dry flies.
The River
The river Tungulækur pops up as spring water from the largest lava field in Iceland Eldhraun in the south just flowing minutes away from the small village Kirkjubaearklaustur.
The river is well known for extraordinary fishing, especially early and late in the season. The sea trout fishing starts in Tungulækur on the first of of April and ends on the twenty-one of October.
Fishing with us you can expect to see the weary best that Tungulækur has to offer. When the river opens the river is full of fish but they are getting ready to go back out to sea to eat, they return to the river in August and they are running into the river until late October. Then they are by the thousands in the river and in unbelievable size, average size is 4-5 ponds but fish up to 12-14 pounds and even bigger are hooked and landed every week.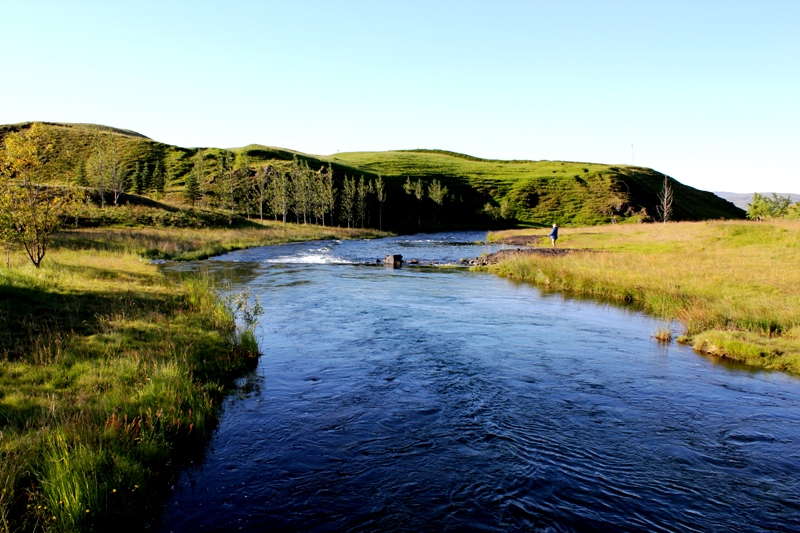 The Tungulækur is actually a tributary to another bigger river called Skaftá. The Tungulækur is not a long river, it is only about two km long because there is a waterfall in the river not so far from the river mouth that obstructs the way for the fish. The lover part of the river is slow moving and you can often see the fish from a long distance for the water is clear most of the time, the upper part of the river how ever constructs of fast moving and deep pools.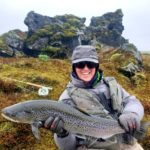 With the river comes a great brand new self catering lodge , one of the very best self catering lodges in Iceland with everything you would need to make you fishing trip complete.
Fishing season: April 1st to October 20 .
Prime time: April, Mid of Aug to Oct 20.
Average size: 4 pounds.
Tackle: Single hand, line weight 4-8 floating and sink tip.
Access: Very good.
Number of rods: 4